1.Language: English, Spanish, French, German, Norwegian, Russian, Persian, Arabic, Polish, Hindi and Portuguese
2.Free Update Online for Two Years
What's the difference between new X100 Pad and old X100 Pad
Old X-100 Pad comes with extra VCI box. New X100 pad with built-in VCI, provides more stable communication.
XTOOL X100 PAD Functions:
Key programming
Oil Reset/Engine oil light reset
Odometer Adjustment
Tire Pressure Warning Light Reset (Manual Operation)
Timing belt light reset (Manual Operation)
EPB Electrical Parking Brake Adaptation
TPS Throttle Body Adaptation
Steering Angle Calibration
Battery Reset
PIN Code Reading
Hexadcimaleditor(Win Hex)
OBDII Diagnosis
Support the latest vehicles with CAN BUS and UDS protocol
Update Via WIFI(always equip your device with the latest software)
More…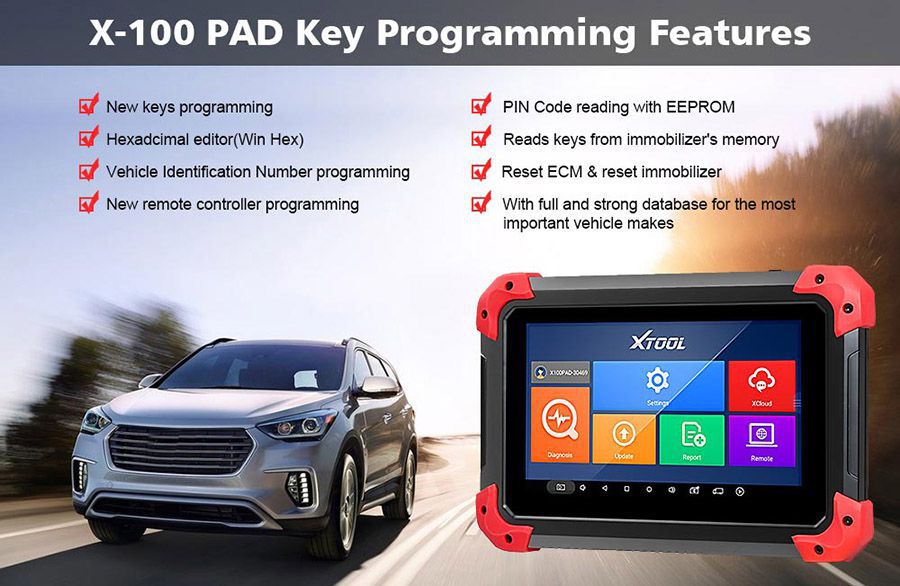 XTOOL X100PAD Immobilizer Features:
1.New keysprogramming
2. PIN Code reading with EEPROM
3.Hexadcimal editor(Win Hex)
4.Reads keys from immobilizer's memory
5.New immobilizerprogramming
6.Vehicle Identification Number programming
7.Reset ECM & reset immobilizer
8.New remote controller programming
9.With full and strong database for the most important vehicle makes
XTOOL X100 PAD Oil Reset Functions:
Innovative one-click oil reset for VW, for audi,for b mw, mercedes seat, skoda, Volvo, etc.
Support engine oil, spark plugs, front brake pads, back brake pads, air conditioner, brake liquid, coolant liquid,
vehicle checking , etc. resetting for bmw.
and the supported bmw models are F01/F02/F03/F04/F07/F10/F11/F12/F13/F18/F20/F30, etc.
Support Mercedes Benz new C class, E class models and for mercedes benz VITO/VIANO/SPINTER.
Support the lifespan percentage resetting of engine oil for Buick, Cadillac etc.
Support P orsche cayenne, panamera till 2012
Support maintenance light reset for Volvo, l and rover.
XTOOL X-100 PAD Oil service light reset car list:
America: B uick, C adillac, C hevrolet, Chrysler, C hevrolet/ G MC, F ord/Mercury/Lincoln, Oldsmobile, P ontiac, Saturn, for G M, J eep and more…
European: VW, for Audi, P orsche, for B MW, for mercedes-Benz, Volvo, L and Rover, Peugeot, Citroen, SAAB, Seat, Skoda and more…
Asia:Toyota/Lexus, N issan/Infiniti, for Honda, A cura, Isuzu, Chery, F ord Transit, Roewe, MG and more…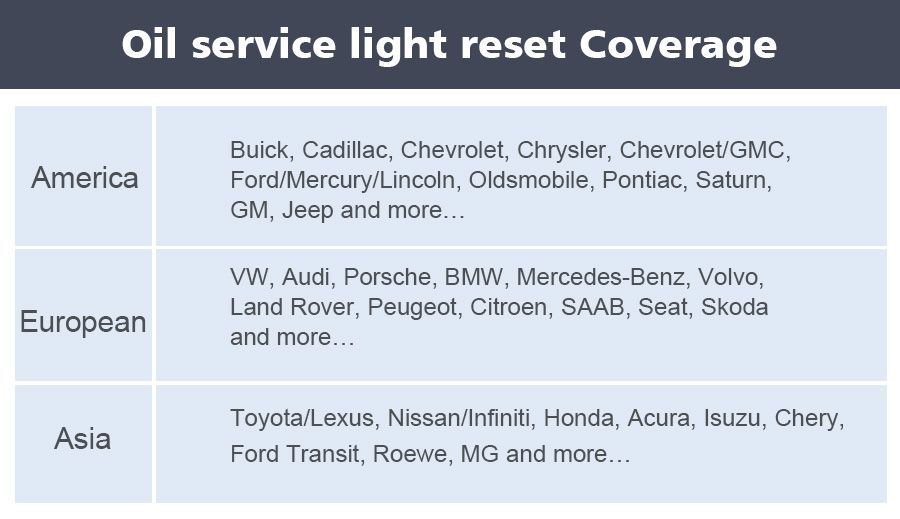 XTOOL X100 PAD Odometer Correction car list:
VW /for AUDI/SEAT/SKODA, BUICK, CADILLAC, CHEVROLET, CHRYSLER, FORD, MAZDA, NISSAN,
SUZUKI, KIA, HYUNDAI, Jaguar, LAND ROVER, PORSCHE and more…
XTOOL X100 PAD EPB electrical parking brake adaptation
vw ( R36, CC, Magotan etc.), for audi ( A4L, A6L, Q5 etc.), seat, skoda and more…
Tire pressure warning light reset (manual operation)
for mercedes-benz, for g m, vw, for bmw, toyota and more…
Timing belt light reset (manual operation)
Exhaust gas treatment (DPF) features
X100 PAD EEPROM adapter features:
1. PIN Code Reading
2. ECU Initializing
3. Chip Programming
XTOOL X-100 PAD Vehicle Coverage:
Asia: Toyota, Lexus, for Honda, Acura, Mazda, for Nissan, Infiniti, Mitsubishi, Subaru, SUZUKI, Kia, Hyundai, Daewoo, SSANGYONG, Proton, etc
Europe: for Audi, VW, Skoda, Seat, for P orsche, Opel, Citroen, Peugeot, Jaguar, for L and Rover, Lincoln, Renault, etc
America: for GM, Cadillac, Buick, Chrysler, F ord etc
China: Great Wall, Chery, Brilliance-auto, Geely, LIFAN, HAFEI, CHANGAN, LANDWIND, BYD, BYD , JAC, etc.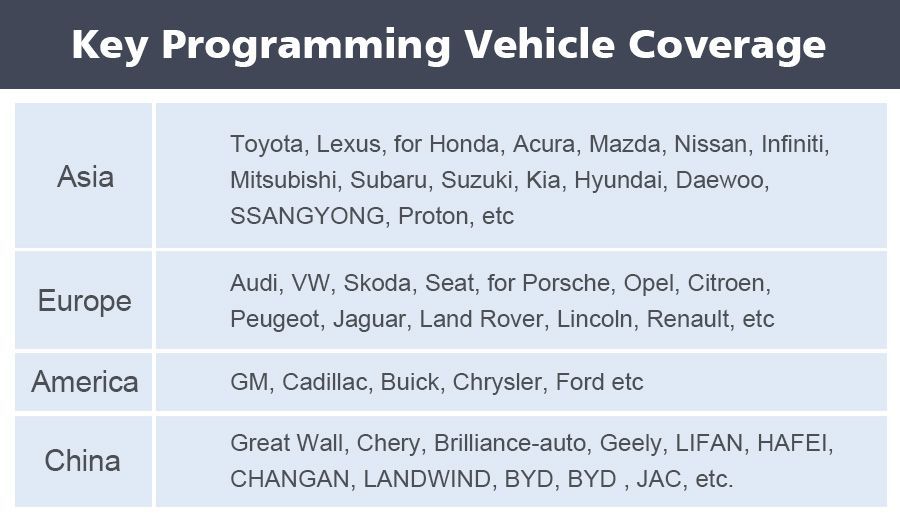 Package includes:
1pc x X-100 Tablet
1pc x OBDII 16Pin Adapter
1pc x Honda-3
1pc x Kia-20
1pc x Kia/Hyundai-10
1pc x Power Adapter
1pc x EEPROM Adapter
1pc x EEPROM IC Board
1pc x EEPROM Package Box
1pc x Test Main Cable
1pc x Mirco USB Cable
1pc x User's Manual