JCB Electronic Service Tool diagnostic interface is used for fast and effective fault finding, check maintenance standards, see if the machine has been abused, view and change machine set up data, flash ECUs with the correct data files. You can reset EMS hours, edit speed limiters and use other functions what require special unlock.
JCB Heavy Duty Truck Diagnostic TOOL JCB Electronic Service tool with JCB Service Master 4 V1.73.3 or V22.11
Here will show you guide on how to test pilot pressure for JCB 3CX, 4CX, 214e, 214, 215,217 & VARIANTS Backhoe Loader.
Procedures:
Testing the Pilot Pressure
1 Position the backhoe to enable access to the pilot supply valve.
Before proceeding further the pilot circuit accumulator pressure must be vented.
2 Stop the engine. With the operator seat set in the rear facing position (for backhoe operation), switch the starter to ON without starting the engine. Operate the joystick controls several times to vent the servo pressure from the accumulator. Switch the starter switch to the OFF position.
3 Connect a 0 – 50 bar pressure gauge to the test point A.
4 With the engine running at 1500 revs/min, operate a backhoe service fully. At the same time check the reading on the gauge. It should be 35 bar (36 kgf/cm2 507 lbf/in2).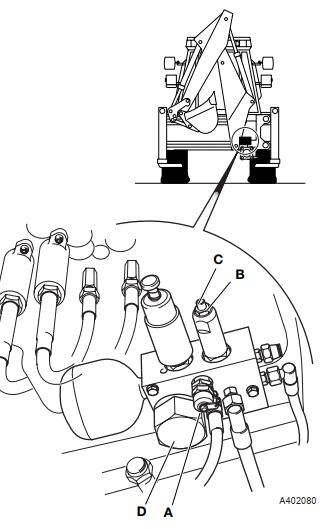 If necessary adjust the pressure as follows:
1 Stop the engine. Loosen lock nut B and adjust screw C.
Turn screw C clockwise to increase pressure and anticlockwise to decrease the pressure. When the pressure is correct, tighten the locknut and check the pressure again. Adjust as required.
Renewing the Pilot Supply Valve Oil Filter
1 Position the backhoe to enable access to the pilot supply valve.
2 Stop the engine. Clean off all dirt on and around the filter cap D. Undo the cap. Remove and discard the filter element. The servo system is easily damaged by contaminated hydraulic oil. When installing a new filter element make sure that no dirt is allowed to enter the pilot supply valve.