Caterpillar Service Information System Cat SIS EPC repair software Parts catalog
Caterpillar SIS 2022 CAT SIS 2022 Service Information System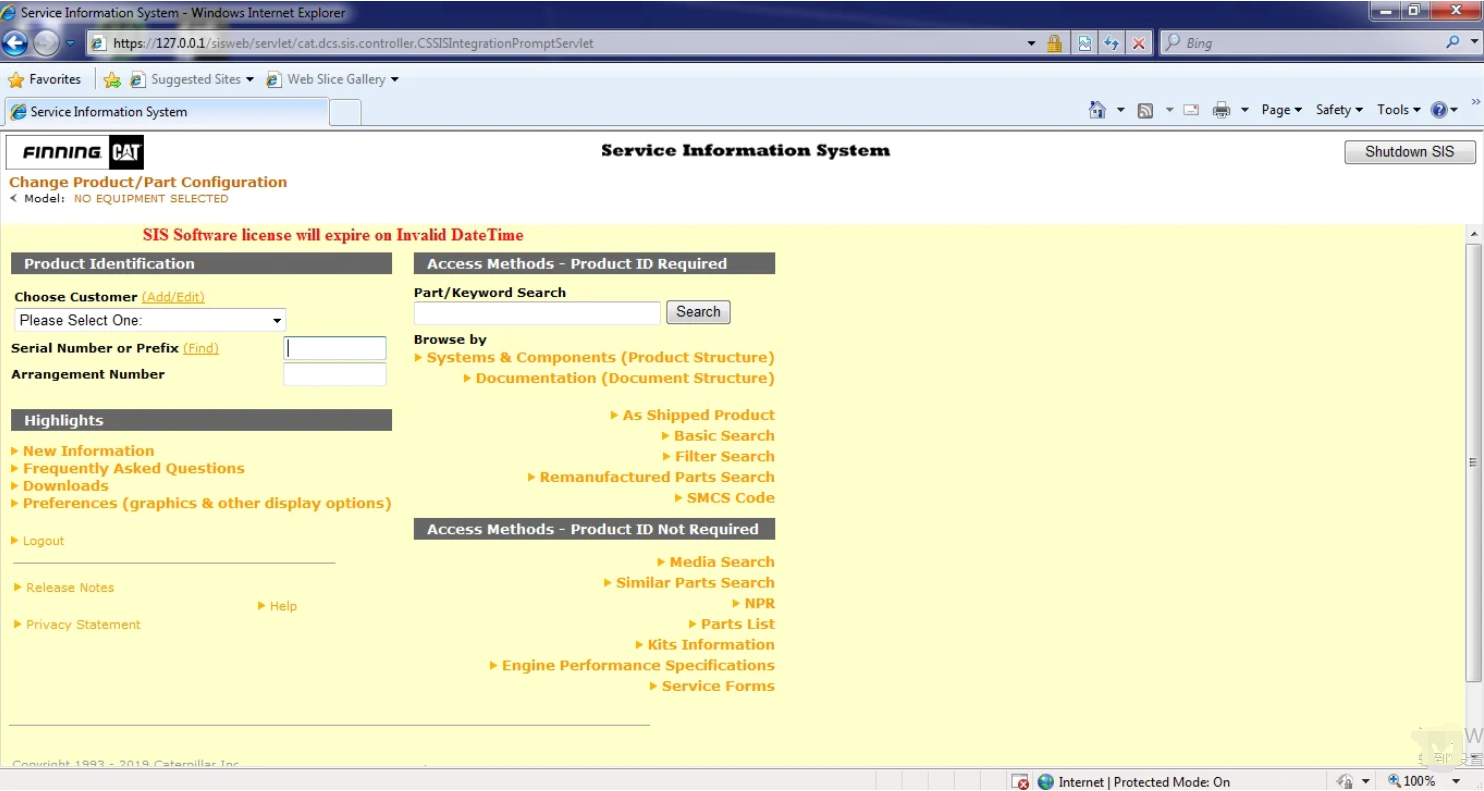 2022 CAT SIS EPC Installation Requirements
1. Please check that your HDD has enough free space. We recommend at least 400 Gb.
2. The CAT SIS works only under Windows 7/8.1/10/11 operation systems. Mac OS, Linux, Windows 11 Home Version etc are not supported.
3. Internet Explorer 9-11 is the only Supported browser because of the application using the WinDjView image plugin, which works with IE only.
4. The setup process estimated time is 2 hours if the download and extraction of the setup files have been finished.
5. If you don't want to install it yourself, please choose our option 2 : Software would be installed well in a second hand Lenovo T410 Laptop before shipment, you could use it directly after you receive Lenovo T410 Laptop
Brand new release of Caterpillar Service Information database – 2022.
1
Type of catalogue: repair manual, spare parts catalog
Make: caterpillar
Region: WorldWide Inclusive
Languages: English, Spanish, Italian, Chinese, Mexican, German, French
Amount of disks: 300 GB (ensure your PC has enough space)
OS: Windows 7 32 bit, Windows 7 64 bit, Windows 8/8.1 32 bit, Windows 8/8.1 64 bit, Windows 10 32 bit, Windows 10 64 bit,Windows 11 64 bit
Description:
Caterpillar SIS (CAT SIS) 2022 is illustrated as a guide to the maintenance and repair of the full range of cat vehicles, contains guidance on repair equipment and machinery caterpillar, program help diagnose production caterpillar, operating instructions spare parts and equipment caterpillar.
Repair manual caterpillar SIS 2022 is intended for engineers and will be useful to all interested in the given direction.
E-program caterpillar SIS 2022 allows the owner of specialized equipment to quickly and easily find the required information about the machine because it contains a search function references; helps professionals to calibrate equipment caterpillar, diagnose it and troubleshoot equipment to solve any problems.
We're getting a lot of questions about how to work with the CAT SIS
It's simple and convenient for use. All you need to know is your model name, or serial number, or prefix. Also, you can use the Parts search function.
Caterpillar Service Information System is a completely offline product, no matter it works using Internet Explorer Browser (You connected to the local web server, which is being installed on your own PC/Laptop). The technical database for all cat machinery stored on 26 DVD-DL discs or (iso images or these DVDs).
2022 CAT SIS EPC Functions:
Parts catalogs
Maintenance and repair manuals
Guidance on repair equipment
Wiring and hydraulic diagrams
program help diagnose production caterpillar
operating instructions spare parts and equipment caterpillar
Calibration data, etc
2022 CAT SIS EPC Information Types/Titles
>Contamination Control Guidelines
>Disassembly and Assembly
>General Service Information
>Operation and Maintenance ManualParts Identification
Schematic
>Service Letter
>Special Instruction
>Specifications
>Systems Operation
>Testing and Adjusting
>Tool Operating Manual
>Torque Specifications
>Troubleshooting
>Truck Engine News
Sections
IMDEX
MAINTENANCE PARTS LIST
MACHINE ARRANGEMENT
ENGINE_ARRANGEMENT
BASIC ENGINE
LUBRICATION SYSTEM
COOLING SYSTEM
AIR_INLET AND EXHAUST SYSTEM
FUEL SYSTEM
ELECTRICAL AND STARTING SYSTEM
POWER TRAIN
FRAME_AND BODY
BRAKING SYSTEM
STEERING SYSTEM
HYDRAULIC SYSTEM
OPERATOR_STATION
SFRUICE EQUIPMENT AND SUPPLIES
Option 1:
Package including:
1pc x 500GB mobile hard disk
Option 2:
Package including:
1pc x second hand T410 (with 500GB HDD)
More information about CAT Electronic Technician you can check here: www.cnautotool.com