Autel MaxiIM IM608 with XP400 Pro supports the same advanced function as Autel IM608 Pro. Both it and Xhorse Key Tool Plus Pad are all-in-one security solution for locksmiths. Here share the main difference in vehicle coverage and function between them.
Autel MaxiIM IM608 advantages:
1.Supports all system diagnosis;
2.Supports special function incl. Oil reset, EPB, TPMS, BMS, Brade bleed, DPF, Injector, SAS, Suspension, Throttle, Win DR Roof, Seat, Odometer, Headlamp, CHG tire size, TEC learn, Cylinder, Turbocharging, etc.
3.Supports more car models in key programming and odometer adjustment than Key Tool Plus.
Autel MaxiIM IM608 Packling List:
1x Autel MaxiIM IM608 Main Unit
1x APC101 USB Cable
1x APA101 Signal Cable
1x MaxiFlash JVCI
1x APB101+APD101(EEPROM Adaptor+EEPROM Adapter Shell)
1x APA103(EEPROM Clamp)
1x XP400
1x APB102 MB IR Cable
1x APA104 ECU Clamp
1x Main Cable
1x APB104(MCU_FQFP64)
1x APA105(MCU Clamp)
1x USB Cable (2m)
1x APB105 MCU_FQFP80
1x APA106(MC9S12 Clamp)
1x Mini USB Cable
1x APB106(MCU_FQFP144)
1x APA107(Connect Cable)
1x AC/DC 12V Adapter
1x APB107(MCU_FQFP144)
1x Quick Reference Guide
2x Light Fuse 6*30mm
1x APB108(MCU_FQFP176)
1x Packing List
1x Cigarette Lighter
1x APA002(EEPROM Socket)
1x Carrying Case 634*170*404mm
1x AAC001
1x APB112
1x G-box2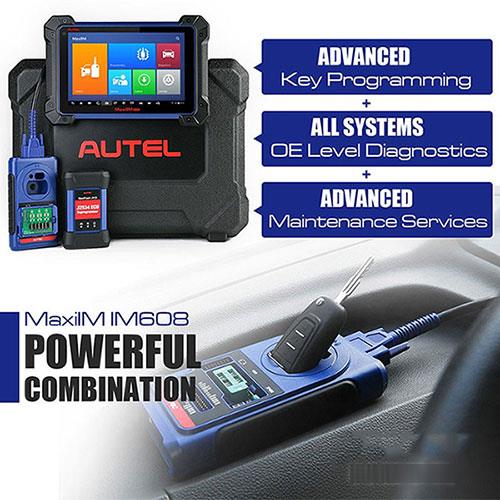 Xhorse VVDI Key Tool Plus Pad advantages:
1.Supports more types in BMW ISN/EEPROM/MCU read and PIN Code calculation, etc.
2.It's better to do key programming for Mercedes-Benz, BMW and VW;
3.It's more powerful to do transponder such as remote & special chip generation/ copy, access card copy, etc.
4.Available to control the Xhorse key cutting machines (Condor, Dolphin, Panda and more)
Package List:
1pc x Pad Main Unit
1pc x User Manual
1pc x Power Adapter
1pc x USB Cable 3.0 Type C
1pc x OBD DB25 Cable
1pc x OBD to Kia 10 Pin Connector
1pc x OBD to Honda 3 Pin Connector
1pc x Remote Programming Cable
1pc x Chip Storage Container
1pc x Prog DB15 Cable
1pc x Prog EEPROM Adapter
1pc x MB IR Adapter
1pc x MB NEC1 Adapter
1pc x MB NEC2 Adapter
1pc x MB NEC3 Adapter
1pc x MB Power Adapter
1pc x MC9S12 Reflash Cable
1pc x ECU Cable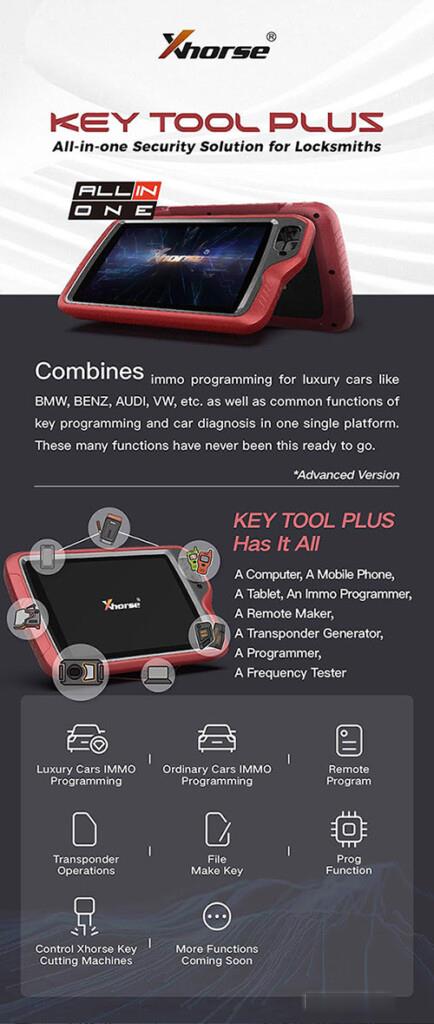 Learn more:
1.VVDI Key Tool Plus Pad provides the most of functions from other original Xhorse devices, such as Mercedes-Benz, BMW, VW and programming. But so far it doesn't over the function of the original one, and some functions covered are less than original, the features are still being added.
2.The original Xhorse device doesn't support Ford, GM, Chrysler and other car brands, but it's under development now. Though there is still a gap in the vehicle coverage and function effects than IM608 Pro, Key Tool Plus is also a good device to choose.
View more info, please click the related link as below:
Autel MaxiIM IM608 Plus XP400 Pro Advanced IMMO Key Programmer Same Functionality as Autel IM608 Pro NO IP Limit:
https://www.cnautotool.com/goods-7034-Autel-XP400-PRO-Key-Chip-Programmer-Autel-MaxiIM-IM608-IM508-Key-Program-Tool.html
Hope it helps!