OBDSTAR X300 DP Plus X300 PAD2 contain 2 types of configuration for your selection :
A Package Basic Version :
Immobilizer+Special function(EEPROM+Key Renewing)Adapter(P001 programmer+C001circuit board+C002 circuit board+W001 cable+W002 data cable+W003 data cable+Toyota smart key Emulator)+others(Ignition coil+Remote tester)
C Package Full Version :
Immobilizer+Mileage correction+Diagnosis+Special function (Oil rest +ABS+Battery matching+ECU programming+EPB+Throttle programming+Airbag rest+TPMS+Steering angle rest+OBDII+DPF+Injector code+Supension matching+Gear learning+CVT learning+EEPROM+Key renewing+ECU cloning)Adapter(P001 programmer+C001 circuit board+C002 circuit board+W001 data cable+W002 data cable+W003 data cable+for Toyota smarkt key Emulator)+others(Ignition coil+Remote tester)
OBDSTAR X300 PAD2 Plus Hardware Features:
1. The built-in VCI box offers more stable communication.
2. The 8″ touch screen offers better vision experience.
3. Allow the user to charge by the OBD port of car. Not like the X300 DP 7″ Pad, which need to be 100% charged before use.
4. With specialized toolkit, high grade and practical.
5. Industrial -grade design, comes with the silicone sleeve
6. The back bracket allows the user to hang it on the steering wheel or stand on the table, which brings great convenience to the operator.
7. Comes with Toyota Lexus Emulators (The first 4 pieces are already released, and the 5th one is under development)
8. The following 3 adapters are integrated into the X300 PAD plus: EEPROM /PIC 2-in-1 adapter, RFID adapter (for VW/Audi 4th / 5th IMMO programming and other cars e.g Porsche, for BMW, Fiat etc.) and Renew Key PCF79XX adapter.
9. Adds the clip for reading SOP 8PIN EEPROM.
10. Adds the cables for reading ECU via OBD (Used to clone ECU and active the switch).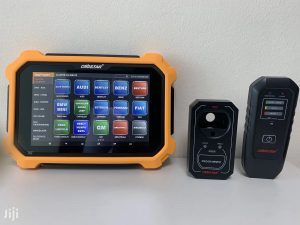 Here is going to show you how to refresh X300 DP Plus system.
Please talk to your seller before refreshing your device.
In this case, the tablet got stuck on the starting screen, which was fixed by refreshing.
How to Refresh?
1.Back up all software in the tablet to a SD card
2.Insert the SD card into the tablet, hold down "+" and "OFF" button until it shows "SUCCESSFUL"
3.Turn it off
4.Copy all files in refreshing package to the SD card (Do Not copy the folder)
5.Insert the SD card into the tablet, hold down "+" and "ON" button, and wait until the refreshing process completes automatically
6.Turn in on, connect the tablet to network, login in by account and password
7.Update software again
Then your OBDSTAR X300 DP Plus should work fine.
Hope this could help!