Product description
John Deere Diagnostic Kit EDL v2 (Electronic Data Link v2) Diagnostic Adapter
With Service Advisor 4.2.006 – 2017 VERSION
Include Full Online Installation & Support !!
Worldwide Express DHL Shipping Included !
No Need To Replace HDD like Others !
Genuine Installation Service On your Laptop Is Included !
Multi functional dealer diagnostic tool is designed to serve the construction, agricultural and forestry equipment,
as well as various engine technology John Deere.
Functions and technical capabilities of John Deere diagnostic adapter:
– Troubleshooting;
– Setup and Calibration ECU;
– Interactive tests;
– Computer programming;
and much more.
This Heavy Duty Truck Scanner is compatible with specialized software dealer John Deere.
Package Listing :
1pc x Electronic Data Link v2
1pc x USB Cable
1pc x 9-pin Deutsch Adapter
1pc x Software Mobile Hard Disk (include AG, CF,CCE V4.0 Software)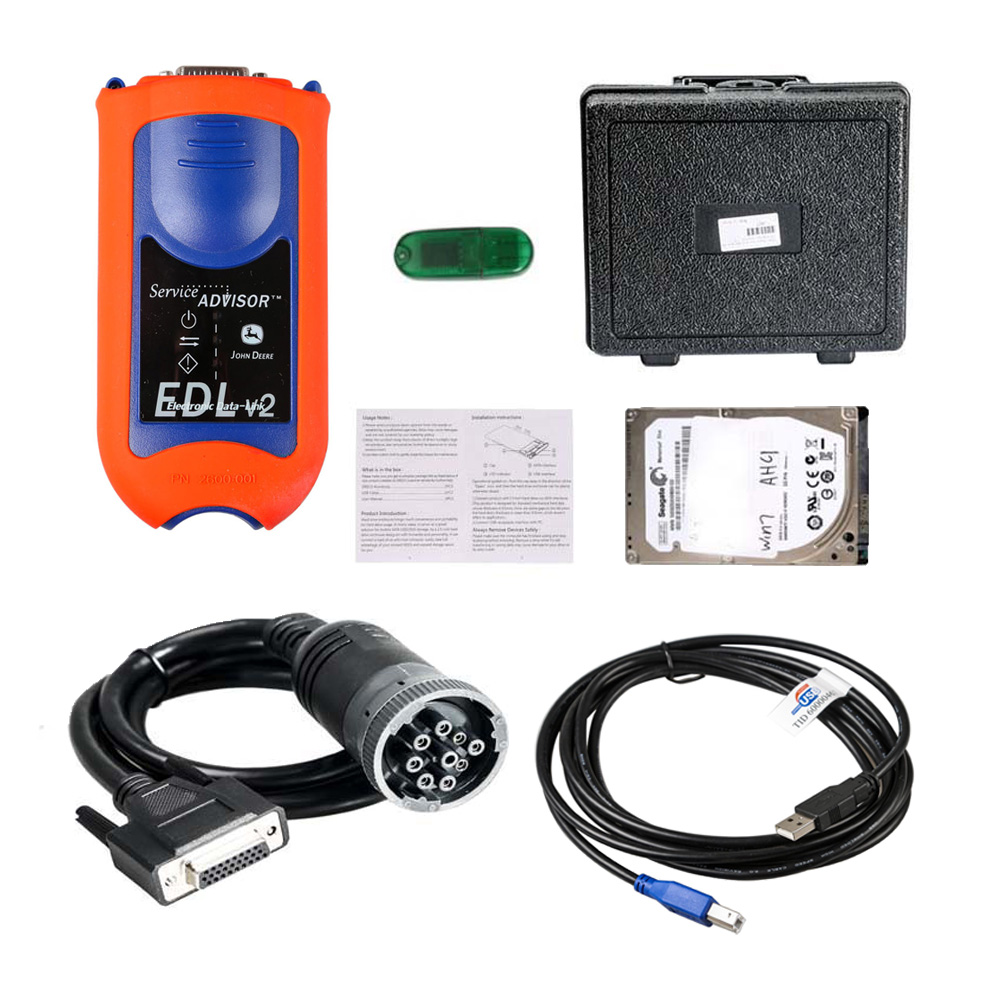 John Deere Service Advisor Languages: 
1. V4.0 software Support Languages: English
2. V4.2 software Support Languages: English, French, Italian, Spanish, Portuguese

John Deere Truck Scanner Model list:
4.0 Software supports vehicles to 2013; ( Free)
4.1 Software supports vehicles to 2014-2015; (160USD- additional cost )
4.2 Software supports vehicles to 2016; ( 250USD-additional cost )
John Deere 4WD Loader
John Deere Backhoe
John Deere Bundler
John Deere Compactor
John Deere Crawler
John Deere Delimber
John Deere Excavator
John Deere Feller Buncher
John Deere Felling Head
John Deere Forklift
John Deere Forwarder
John Deere Harvester
John Deere Harvester Heads
John Deere Landscape Loader
John Deere Log Loader
John Deere Logger
John Deere Mate. Hand Cut. and Shredders
John Deere Motor Grader
John Deere OEM Engines
John Deere Scraper
John Deere Skid Steer
John Deere Skidder
John Deere Slasher
John Deere Tractor
John Deere Tractors
John Deere Tree Harvester
John Deere Truck
John Deere Utility Vehicles
John Deere Winch
John Deere Worksite Pro Attachment
Model list:
John Deere 5720
John Deere 5820
John Deere 5620
John Deere 244J
John Deere 304J
John Deere JD904
John Deere JD1054
John Deere JD1204
John Deere JD1354
John Deere 70
John Deere 570
John Deere 40
John Deere 315
John Deere 240
John Deere 250
John Deere 260
John Deere 270
John Deere 3375
John Deere 4475
John Deere 5575
John Deere 6675
John Deere 7775
John Deere 8875
John Deere 60
John Deere 375
John Deere 328
John Deere 280
John Deere 70A
John Deere 44
John Deere 320
John Deere 575
John Deere 240 Series II
John Deere 250 Series II
John Deere 260 Series II
John Deere 270 Series II
John Deere 280 Series II
John Deere 332
John Deere 325
John Deere 51
John Deere 52
John Deere 67
John Deere 675
John Deere 675B
John Deere 313
John Deere 24A
John Deere 125
John Deere 317
John Deere CT322
John Deere CT332
John Deere CT315 …
click here:https://www.cnautotool.com/goods-5129-John-Deere-Service-Advisor-EDL-V2-Diagnostic-Tool.html