1.Language: English, Spanish, French, German, Norwegian, Russian, Persian, Arabic, Polish, Hindi and Portuguese
2.Free Update Online for Two Years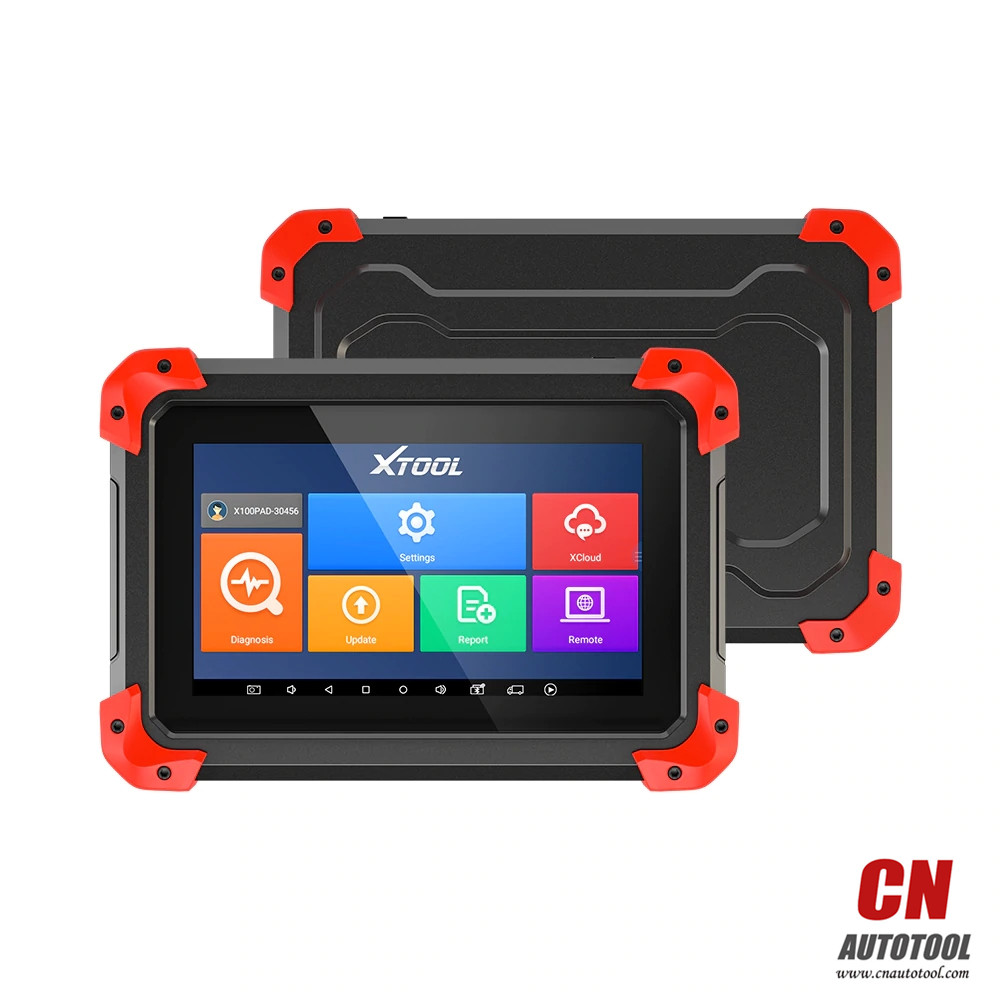 What's the difference between new X100 Pad and old X100 Pad?
Old X-100 Pad comes with extra VCI box. New X100 pad with built-in VCI, provides more stable communication. New X100 PAD contain all functions of old X100 PAD .
XTOOL X100 PAD X-100 Auto Car Key Programmer Product Features
Read and clear fault codes;
Clear key memory;
Program keys, proximity keys, smart keys, flip keys.
Program aftermarket and OEM keys.
Display live data.
Component actuation.
Reads keys from immobilizer's memory.
New immobilizer programming.
New ECU programming.
New mechanical key number programming.
Vehicle Identification Number programming.
Reset ECU & reset immobilizer.
Easy to operate by the guided menu programming.
New remote controller programming.
Immo PINCODE reader.
With full and strong database for the most important vehicle makes.
Upgradeable via web-based download.
EEPROM Chip read and Immobiliser initialization.
X-100 PRO English Version Configuration
Configuration (C): IMMOBILISER+ OBD software
Configuration (D): Odometer adjustment+ OBD software
Optional configuration (E): EEPROM adapter
Configuration (C+D): IMMOBILISER+ odometer adjustment + OBD software
OBDSTAR X-100 Pro tested, yes, for the following models for mileage change:
1) VAG group vehicles:
2003 – 2007 Audi A3
2013 – 2013 Volkswagen Tiguan TFT color dash nec+24C64
2014 – 2014 Volkswagen caddy white meter NEC24C64 via obd
2014 – 2014 Volkswagen Caddy with TFT Color dash via obd
2014 – 2014 Volkswagen Caddy with TFT Color dash via obd
2014 – 2014 Volkswagen Polo with NEC24C64
2014 – 2014 Volkswagen Polo White Meter NEC24C64 (using golf menu)
2013 – 2013 golf with black/white screen
2012 – 2012 Tiguan tft color NEC24C64
2014 – 2014 Seat Ibiza via obd
2013 – 2013 Q5 via obd
06 a8
2) Hyundai
Hyundai Verna fluidic via obd
Hyundai Accent 2012 24c16 via obd
Hyundai Creta D70F3525
Hyundai Verna 24c16
3) Kia
2014 – 2014 Kia Sportage with 24C16 
2012 – 2012 Kia Sportage with 24c16
2013 – 2013 Kia Sportage round dash screen via obd
Kia Sorrento 24c16 al via obd
Kia Optima mileage correction
4) Opel
2011 – 2011 Opel Isignia via obd
2010 – 2010 Astra J
2009 – 2011 Opel Insignia
5) Others
2010 – 2012 Chevrolet Cruze  via obd
2014 – 2014 Chevrolet Cruze via obd
2012 – 2012 Chevrolet Cruze
2013 – 2013 Range Rover Evoque via obd
2013 – 2013 Range Rover Evoque SD4
2014 – 2014 Range rover sport
2014 – 2014 Jeep Compass
I20 24c16 (Note: if you WANT TO DO KM IN HYUNDAI I20 THEN YOU HAVE TO PUT KM 4 TIME MORE EX. 1000 KM NEED THEN PUT 4000 KM IN X100.)
2006 – 2006 Chrysler 300C -> Will do dash via obd but (won't do SRI)
2008 – 2008 Hummer H2 via obd
2014 – 2014 Altima Via obd
i20 by obd (x4 solution: for example for 25300km = 25300×4; results in 9999999 or occasionally 564873248. keep trying 1 or more number more on total)
Rio via obd
Hyundai Sonata 9
Mercedes Benz [NOT BMW]
Ford Ranger 24c16 by obd2
X-100 Pro Fail:
2015 – 2015 Ibiza
2012 – 2012 Volkswagen Polo with Nec+95320
2011 – 2011 AUDI A3 (however it works with VVDI and VVDI2)
2006 – 2006 Chrysler Pacifica Immo no connection (Updated November 8th, 2015)
2015 – 2015 Hyundai Verna Fludic Pertol but no communication with x 100 (November 20th, 2015)
1998 – 1998 Volkswagen Beetle (November 22nd, 2015)
2015 – 2015 Volkswagen Caddy white meter with NEC24c64 (November 27th, 2015)
Package includes:
1pc x X-100 Tablet
1pc x OBDII 16Pin Adapter
1pc x Honda-3
1pc x Kia-20
1pc x Kia/Hyundai-10
1pc x Power Adapter
1pc x EEPROM Adapter
1pc x EEPROM IC Board
1pc x EEPROM Package Box
1pc x Test Main Cable
1pc x Mirco USB Cable
1pc x User's Manual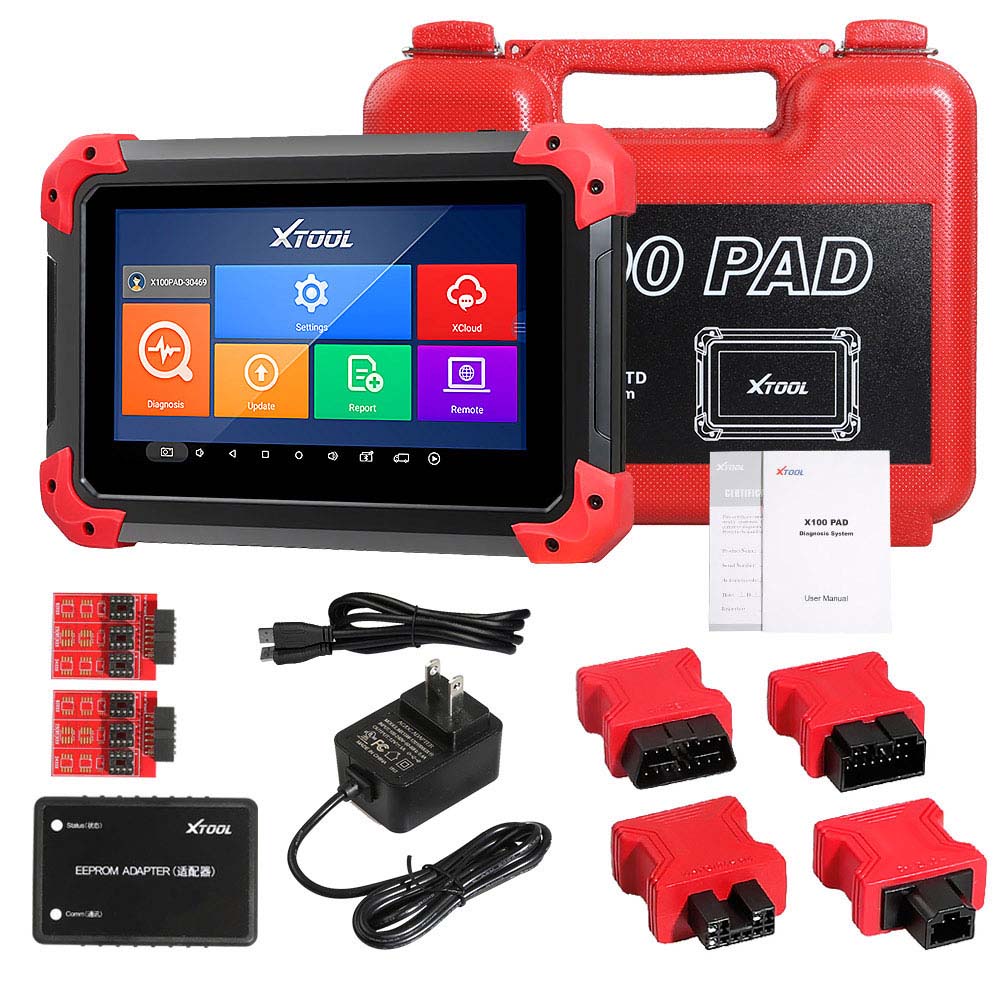 more information at https://www.cnautotool.com/category-185-b0-Xtool.html