MicroPOD II for Chrysler is a diagnostic and programming 2 in 1 interface Works as a direct replacement for the withech POD can fits in your shirt pocket and provides 100% can coverage for Chrysler, Dodge, Jeep and Fiat.
MicroPOD II V17.04.27 wiTech MicroPod 2 for Chrysler/Dodge/Jeep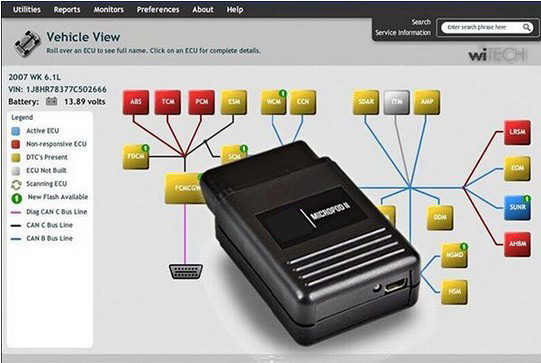 MicroPOD II function:
It can be used as diagnostic and programming tool by the dealerships. It replaces your StarMobile, StarScan, and wi-TECH POD, and enables your technicians to increase their productivity and provide world-class diagnostic services to your customers.
A separate Tech Authority  Subscription is required to access to Module Re-Flash Programming, TSBs, wiring diagrams, and repair information.
Intention:
Trying to find one micropod II that would work properly with DRB Emulation. Especially with Chrysler Crossfire.
Credit to Radius from Mhhauto. You are at your risk.
Test procedure:
Test 3 different micropod interfaces. 2 devices did not work with DRB III emulation at all, no matter which vehicle. The 3rd device worked and it worked on Chrysler Crossfire – access to ALL modules.
I think the 2 devices which did not work are missing hardware for K-Line or some such.
The device verified working is an OFFLINE ONLY version of witech micropod 2, but I only use it for diagnostics, not for programming as I do not have a TechAuthority account. So if you need one for online use this is not the unit to buy.
How to get witech to work with Enhanced DRB III Emulator?
1: Make a backup copy of the partition from the hard drive included with the micropod!
2: Install HDD in laptop
3: Set date to 01/01/17 BEFORE booting from laptop
4: Boot to HDD
5: Allow windows to install drivers, etc, as needed for your laptop and reboot as needed.
6: Once all of that is done, do NOT run WiTech yet!
7: Turn OFF internet!
8: Navigate to C:\ProgramData\wiTECH\jserver\data\core\stubs
9: Install DRB Emulator stub
10: Install DRB Enhanced emulator stub
11: Install K-Line stub
12: Reboot computer
13: ALLOW internet access
14: Run Flexnet software updater. Do NOT update WiTech!!!
15: Flexnet will find updates for enhanced DRB and K-Line
16: Install K-Line update first
17: Install Enhanced update next.
18: Once updates and downloaded and installed, turn OFF internet and NEVER turn on again!
19: Reboot computer
20: Attach Micropod to car. When green LED turns on, turn on car ignition
21: Attach USB cable to PC and witech Micropod 2
22: When Windows is done installing drivers, etc, you should show a network connection in the tool tray with no internet access
23: Run Wi-Tech
24: Press "Launch DRB III" button in lower right hand corner
25: Accept EULA
26: DRB Emulator will launch.
27: Enjoy.
For more information please visit our website sale@cnautotool.com