Product Description
This package includes MB Connect Compact 4 and V2020.9 SSD MB SD C4 software which is faster and more stable, including Xentry, Das, EPC, WIS, HHT, DTS Monaco, VEdiamo, etc.
CnAutotool.com provides you with best price, high quality and one year warranty with free technique services.
(SSD Version) Wifi V2020.9 MB SD C4 Connect Compact 4 Star Diagnosis with Software and Case Pack
SP100-D2=SP100-E MB SD C4 Plus support DOIP+ SS221-A7 V2020.9 SSD software
What is the difference between SP100-D and SP100-D2?
SP100-D is with SS221-7 500gb normal HDD software
SP100-D2 is with SS221-A7 256gb SSD software, Software is faster and more stable
All the rest functions are the same.
Top 7 Reasons To Get MB SD C4:
1. Comes with SSD hdd. MORE stable
2. Software Version: V2020.9
3. Full software like: Xentry, DAS, WIS, EPC, ST Finder, STARUTILITIES, SDMEDIA, PL72, DTS Monaco, Vediamo, HHT WIN
4. Supported Multi-Language: English, Bulgarian, Danish, Greek, Spanish, French, Italian, Korean, Polish, Romanuan, Serbo-Croatian,  Turkish, Czech, German, Finish, Hyngarian, Japanese, Dutch, Portuguese, Russian, Swedish, Chinese
5. Support both Mercedes Benz Cars and trucks.
6 with Free installed Vediamo V5.00.05 and DTS Monaco, both are english, can start directly.
7.Want to do online scn coding? buy SS99 Online SCN Coding for MB STAR SD C4
How to set MB SD C4 Plus WIFI? EASY
The new version of c4 wifi connection does not need to be set up, your laptop finds the c4 wifi signal, enter the password 12345678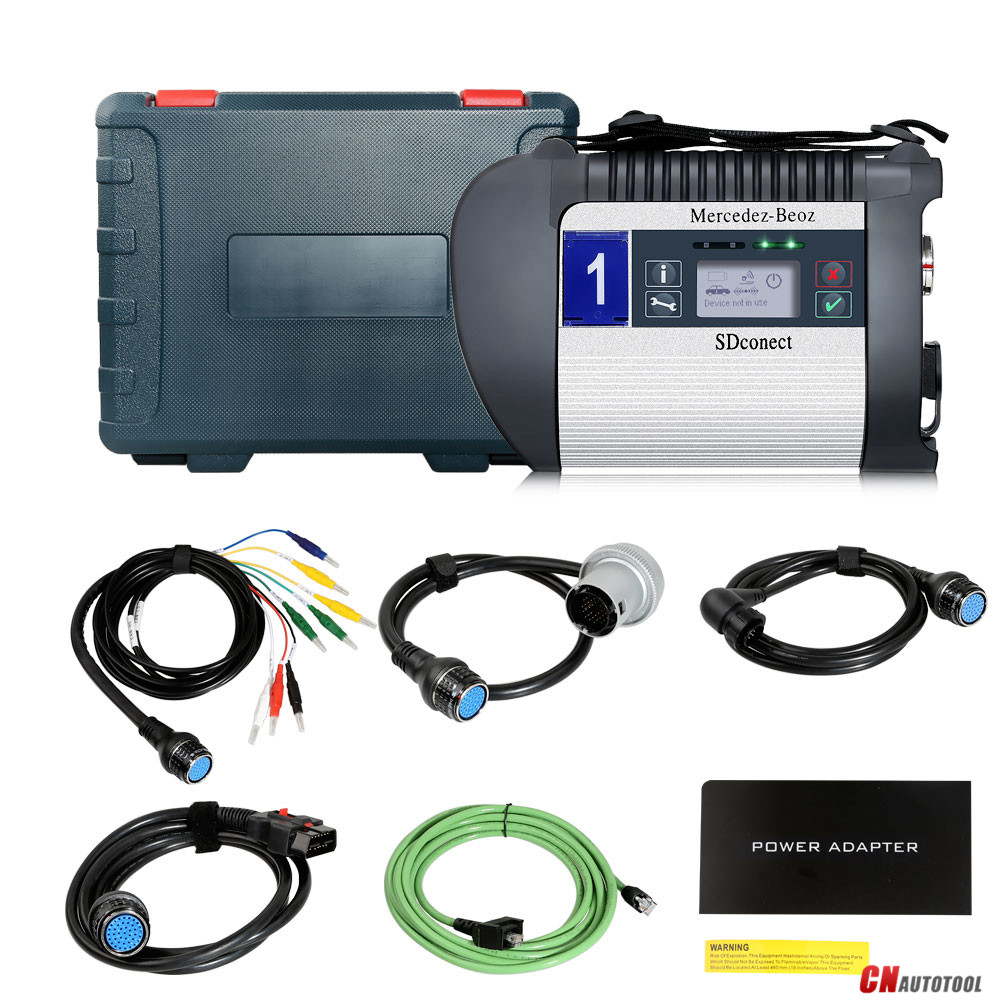 MB SD C4 Plus Wire Connection Picture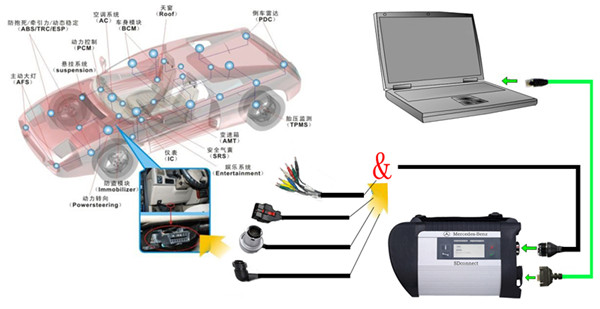 MB SD C4 PLUS Wireless Connection Picture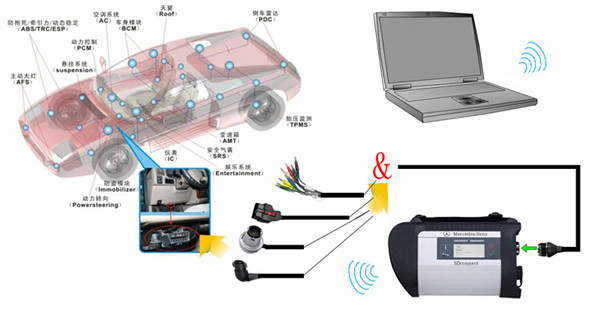 New MB SD Compact 4 Features
1. New MB SD Connect Compact 4 Star Diagnosis support wireless diagnose;
2. New MB SD Connect Compact 4 Star Diagnosis not only support K line diagnose and CAN BUS,but also UDS diagnose protocol. Because old MB STAR C4 main board do not have UDS chip, so old MB STAR C4 can not support it;
3. Multiplexer now use Lan cable to connect
4. Connector adopt Military quick swap technology, it can support 10,000 times pull plug, more stable;
5. All core accosseries adopt original new packing chip, and 24hours test, guarantee the quality of the products;
MB Star SD C4 Supported Vehicle List:
Support for MB Cars After Year 1989
Passenger Car Support List:
A(176), A(169), A(168), B(246), B(245), CLC(117), C(204) C(203), C(202), 190(201), E(212), E(211), E(210), 124(124), S(222), S(221), S(220), S(140), S(126),
E(207), CLK(209), CLK(208), CLS(218), CLS(219), CL(216), CL(215), CL(140) SLK(172), SLK(171), SLK(170), SL(231), SL(230), SL(129), SL(107), SLS(197),
M(166), M(164), M(163), G(463), G(461), E(212), E(211), E(210), 124(124), S(222), S(221),S(220), S(140), CLK(209), CLK(208), CLS(218), CLS(219), CL(216),
CL(215), CL(140), SLK(172), SL(231), SL(230), SL(129), SL(107),SLS(197), M(166), M(164), M(163), G(460), GL(164), GLK(204), R(251)
Van Support List:
MB 100(631), T1, SprinterIII, SprinterII, SprinterI, Sprinter900, Citan, Vito(639), Vito(638), V(638), Viano(639), T2, Vario, Vaneo(414)
Truck Support List:
Actros963/4, Actros2,3, AtegoIII, AtegoII, AxorII, Eonic, Zetros, Actros, Atego Light, Atego Heavey, HPN M96, Atron, HPN M2000, SKL, FSK, Further model series
Unimog Support List:
U20, UGN, UHN
Bus Support List:
TRAVEGO, INTOURO, INTEGRO, CITARO, CAPACITY, CITO, TOURISMO, O350/O403, CONECTO, O404, O405-O408,
Minibus, OC500, TOURO, TOURINO, MBC, MULITEGO, O500, O500/OH, OH, OH368, OF, OF384, LO, O400,
FURTHER MODEL SERIES
Super Sports Car Support List:
SLR(199)
MB SD C4 PLUS FAQ:
Q:will this new MUX communicate with the New MB 222 Xentry Connect protocol ?
A: yes.