Truck Diagnostic Tool CAT Caterpillar ET Diagnostic Adapter III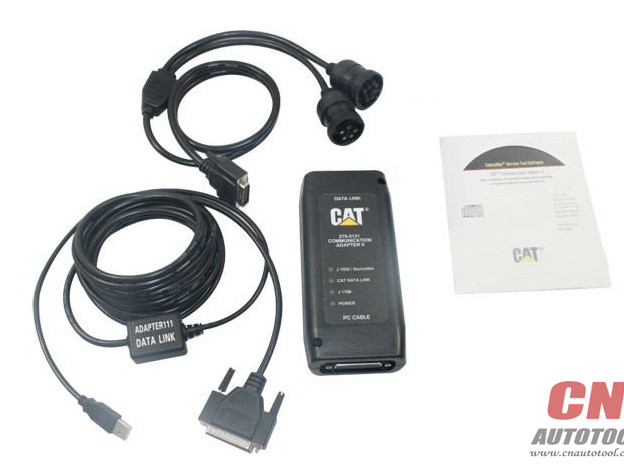 Retrieve engine totally for fuel used, miles traveled, and hours operated.Display status of all parameters, such as engine speed, throttle position, timing advance, fuel flow, etc.View active and logged diagnostic codes to identify faulty sensors.
What can I do with one CAT Caterpillar ET Diagnostic Tool: CAT Communication Adapter III has to work with a computer, and we users can  display the status of a group of parameters (temperatures, pressures, etc.) details:
1.Display Logged Event Codes to show engine over speeds, High temperatures, fuel consumption, etc;
2.View ECM's current configuration and change user settings;
3.Perform diagnostic tests and calibrations, and calibrate;
4.Electro-mechanical and electro-hydraulic components;
5.Context sensitive help leads operator through every task diagnostic tools Cat ET can perform
6.Data Logger and Data Log Viewer allows recording of ECM signals for delayed troubleshooting capability.
With the CAT Diagnostic Tool, you can:
View active and logged diagnostics
View events where irregularities occurred and were logged by the ECM
View the status of a group of parameters (temperatures, pressures, etc.) simultaneously
Record and log performance data
Graph a group of status parameters
View the current configuration of an ECM
Change ECM configurations
Perform diagnostic tests
Perform calibrations
Print reports and diagnostic results
For some machine and engine products, additional functionality has been included with the service tool program
Features
Display, graph and log status parameters.
Retrieve prognostic data including histograms, engine totals for fuel used and miles traveled.
View active diagnostics and clear logged diagnostics. View events where irregularities have occurred and have been logged by the ECM.
Perform calibrations to enhance performance of the ECM.
Customize the ECM with application-specific settings.
Over 100 custom Diagnostic, Information and Service features including:
– 2D and 3D Histogram plotting capability (engine software
support required).
– Custom Status screen groups
– Snapshots (Download and display snapshot data recorded by the
ECM)
– Configuration Aid that allows upload/download of same
configuration to multiple control modules
Customised Service Tool Options
Customized service tool name
Customized graphics for the splash screen and icons
Customized installation
Aftermarket differentiation, i.e., the tool for one customer does not work on the product of another customer.
Licensing options for customer management
Flash programming of the ECM(s)
Training demonstration allows familiarity with the tool's primary functions without connecting to ECM(s)
Perform customized diagnostic tests to identify harness problems, cylinder or component failures (Automatic Cylinder Cutout with cylinder to cylinder fueling comparison)
Caterpillar ET is available with the language I want:
The most important reason why I choose Auto key Programmer CAT Caterpillar ET Diagnostic Adapter III is that it is available with the language what I want, the language it supports includes: Danish, English, French, German, Italian, Japanese, Portuguese and Spanish
Original Factory Caterpillar ET3 Adapter III Compare With OEM Caterpillar ET Diagnostic Adpater III
1. Original Factory CAT ET can use once pluged, no need install the USB drive, the software can automatic realize it for ET3 Adapter, and the machine can automatic weld the high quality Circuit board, quality will be more reliable.
2. The OEM Caterpillar ET Diagnostic Adapter III need use USB Drive to install, and need choose the COM Port, and  in the software ET also need choose ET2 then can be used.
The Details as follows:
Auto Diagnostic tool CAT Caterpillar ET Diagnostic Tool from Caterpillar provide the capability to access Electronic Control Modules (ECMs) from a personal computer. Many job-critical tasks can be performed with an electronic service tool.
More Details please contact us:https://www.cnautotool.com/goods-2485-2017A+Version+CAT+Caterpillar+ET+Diagnostic+Adapter+III.html