(11.04.20419) Free download Scania SDP3 V2.39 for Scania VCI3 Scanner: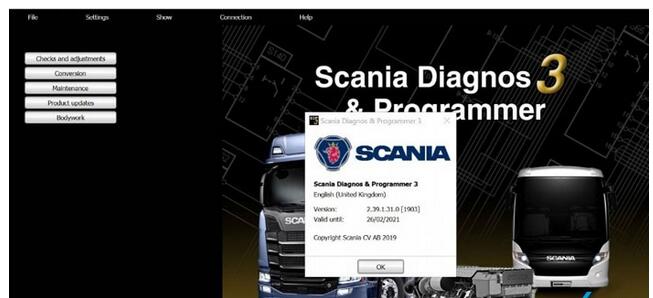 Security: Safe; tested by real professionals working for cnautotool.com
Password: Will get the password after payment
Language: English, German, Spanish, French, Japanese, Dutch, Persian, Polish, Portuguese, Swedish, Norwegian, Suomi, Turkish, Italian, Czech, Russian, Chinese.
Operating system: Windows 7 32 & 64 bit,  Windows 8/8.1 32 bit, Windows 10 32 bit.
How to install Scania SDP3 2.39.1:
Step 1: Install Adobe Reader
Step 2: Install Microsoft.NET 2015
Step 3: Install Scania SDP3 2.39 Setup
Step 4: Turn off User Account Control
Step 5: Install SDP3 driver
Step 6: Run SDP3 & Change the sw Language
Look at the video for details
Cnautotool will provide SDP3 V2.39 installation help for free
What is Scania SDP3:
Scania SDP3 is the latest diagnostic software for Scania diagnostic tool VCI 2 and Scania VCI 3. SDP3 (Scania Diagnos & Programmer) software is an OEM software designed to maintain Scania trucks, other heavy vehicles and marine or industry engines over VCI diagnostic interface.
Scania?diagnostic codes:
000 00 No Fault
01 001 less than the rated voltage – heater works
02 002 higher than the rated voltage – heater works
004 03 Short circuit fan (D2I)
005 05 Short-circuiting the wires from alarm (D2I)
009 09 Heater off system TRS (D2I / D9W)
010 0A higher than the nominal voltage (heater stopped)
011 0B voltage less than the nominal (heater stopped)
012 0C overheat – fuel pump is turned off
013 0D temperature sensor recorded a high temperature
014 0E big difference values of t. sensor. overheating sensor. regulation. t (D3W / D9W)
015 0F heater overheated many times – the heater is turned off (D2I / D9W)
017 11 Reusable overheating (t exceeds the second threshold) (D3W)
020 14 Candle / rod defective bulbs
021 15 Short candle / bar bulbs
022 16 Faulty relays candle / bar bulbs (D2W)
023 17 Internal defect relay control R2 candle / bar bulbs
024 18 Short-circuit switch controller candle / bar bulbs
025 19 Short-circuit diagnostic socket
029 1D fan air gap 5 does not operate R3
030 1E air fan does not work in all positions (R3-D3W)
031 1F air fan does not work in all positions (R3-D3W)
032 20 Air fan does not work in all positions (R3-D3W)
033 21 Air fan does not work in all positions (R4-D2I / D9W)
034 22 there is no contact with the solenoid valve of the cooling system. (D2W / D9W)
035 23 No contact with the relay average performance
036 24 Short-circuit relay average performance
037 25 Do not rotate water pump (D2W / D9W)
038 26 No contact with the fan relay cab heating (D2W / D9W)
039 27 Short cab heating fan relay (D2W / D9W)
040 28 Short circuit solenoid. valve cooling system. (D2W / D9W)
042 2A Short circuit water pump (D9W)
043 2B Short cable from the computer to the heater fuel pump (D9W)
047 2F Short circuit of the fuel pump
048 30 No contact with the fuel pump
050 32 Heater run many times but have not worked (relay R3)
051 33 Flames emerged immediately after pressing the start button heater
052 34 No start (restart purge)
053 35 Stop flame during startup
36 054 Stop flame position max. productivity
055 37 Stop the flame in a position average performance
056 38 Stop the flame in the position of poor performance
057 39 Flame sensor short circuit (photoresist)
058 3A heater is turned off, but the flame in the combustion chamber (D2W)
059 3B Water temperature rising too quickly (D9W)
060 3C No contact with the sensor temperature control
061 3D sensor short circuit temperature control
062 3E No contact with the potentiometer (D2H / D2I)
3F 063 Short potentiometer (D2H / D2I)
064 40 No contact with flame sensor
065 41 Flame sensor short circuit
071 47 No contact with the sensor overheating (D3W / D9W)
072 48 Short-circuit overheating sensor (D3W / D9W)
073 49 Overheating sensor recorded the fastest increase in temperature (D9W)
090 5A Spontaneous error
091 5B high surge (high-voltage wires, CB-radio, etc.)
092 5C Faulty heater control unit – fault ROM
093 5D Faulty heater control unit – faulty RAM
094 5E Faulty heater control unit – fault EEPROM
096 60 Temperature sensor faulty heater ECU (D2I)
097 61 Faulty heater ECU (D2I / D2W / D9W)
255 FF cleared but faulty memory EEPROM