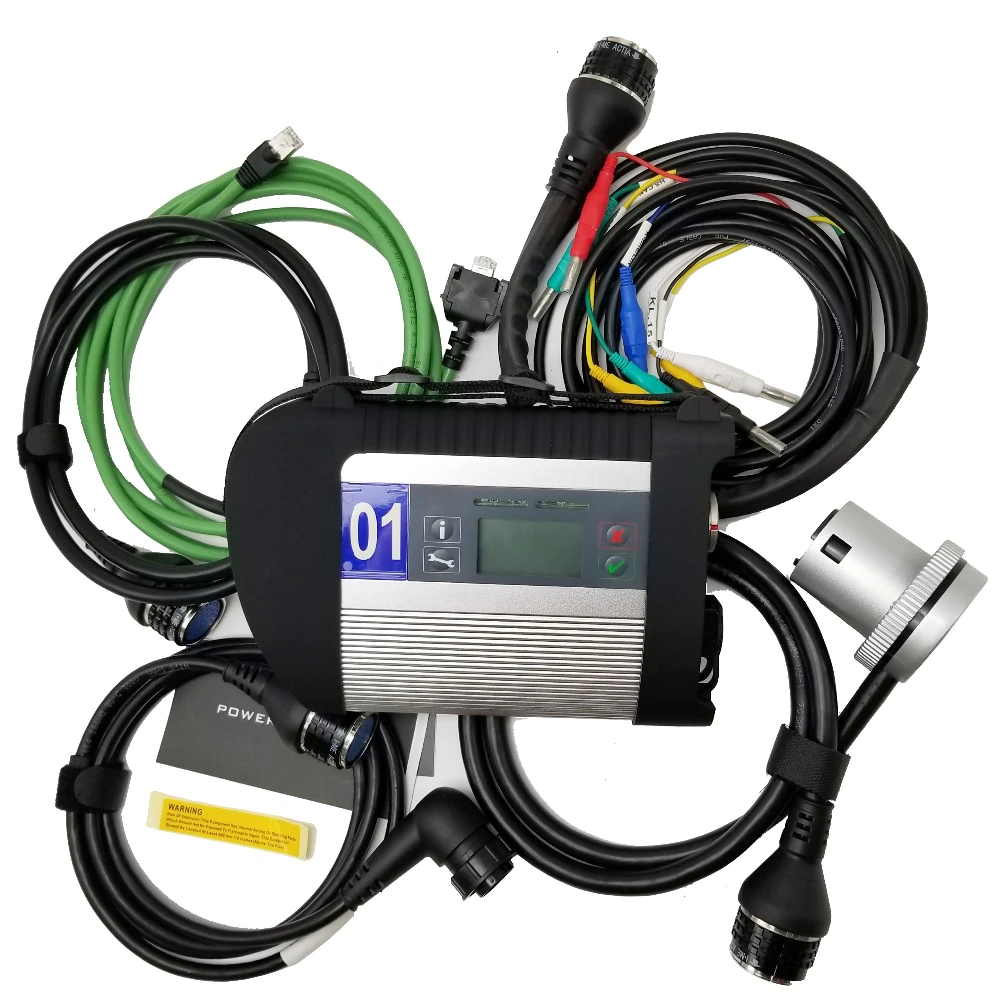 Benz Compact 4 Description:
The new generation for Benz diagnostic equipment Star Diagnosis compact 4 is the latest one on market for all current and new coming MB vehicles. It can read code, clear code, live date offer, computer programming for all benz car. The function is the same with the newest original benz diagnosis equiments Compact 4.
The system offers total diagnostic coverage of all engine, chassis and body systems:
Reading and re-setting of diagnostic trouble codes (DTC)
Real-time reading of dynamic data
Full component activation clearing and re-setting of adaptation values
Coding of all engine, chassis, body and instrumentation modules
Key configuration
Procedure for fitting Mercedes- Benz accessories through the D2B ring and MOST bus
Total ASSYST / ASSYST + control (Active Service System) to update on board service history
DAS: Concise interface and straightforward operation using a wintel computer you can realize a quick and accurate code reading and testing on the cars system.
Benz Compact 4  Features:
Engines (All Gasoline & Diesel Systems)
Transmissions and Electronic Selector Modules
Airmatic and Active Body Control Suspension Systems
Traction Systems: ESP / ASR / ETS / ABS / BAS / SBC braking systems
Supplementary Restraint Systems (SRS) / Airbag, All body modules OCP / UCP / LCP / SCM / SKF / KFB / RCM / DCMs
Drive Authorisation System
Sam (Signal Acquisition) Modules
Electronic Ignition System (EIS)
Pneumatic System Equipment and ATA functions
Air Conditioning / climate control Systems
Instrument Cluster
Tyre Pressure Control
Parktronic System
Keyless Go
D2b Command & Audio Gateway (D2B and MOST networks)
TV Tuner
Headlamp Range Adjustment
Seat Electronics
Rvc, RST & Vario Roof modules
Automatic Clutch System ACS
M-Class Body Modules (AAM / EAM / DAS / SEM / VG Transfer Case)
Assyst & ASSYST + systems
Compatibility: All Mercedes Benz vehicles with OBDII
 The difference of function between Compact 3 and Compact 4
1) Compact 4 support wireless diagnosis
2) Compact 4 support not only KL diagnosis and three lines CAN BUS diagnosis, but also UDS diagnostic treaty. Because the board of Compact 3 didnt contain UDS treaty chip, the hardware will be eliminated directly.
3) SD connect can do wireless diagnosis. Besides, it use Lan cable connection. So it can support more model computer.
4) Interface components used the military quickly inserted techniques that can support one million times plug, more stably.
5) All of the core components adopt new original packaged chip, plus 24 hours fatigue test, to ensure product stable release.
6) Support language: English, Germany, Franch, Italy, Spain, Portuguese, Finland, Denmark, Swedish and so on.
Before you use MB SD Connect Compact 4 Star Diagnosis,you need to set the wlan for your computer and device,pls download the How-to-set-wlan from our website to learn how to set wlan if you do not know how to do.
Function
1.reading out & erasing trouble code
2.reading the real-time data of sensor and actuator
3.coding and programming.
4. MB SD Connect Compact 4 support wireless diagnose, support K line,CAN BUS and UDS protocol
5.fit all computers (we support the dell d630 laptop)
what kind of software we can supplied:
Software details :
1. DAS 2022.03: the automatically Diagnosis Assistance System
2. Xentry 2022.03: New software released by Benz Company after 04/2009 by diagnosis new cars.
Update service
1. Regular updates for applications and data
2.Delivery on DVD
Knowledgeable advice in several languages: German,English, French, Spanish, Italian, and Japanese
MB SD Compact 4 Package List:
1pc x Multiplexer in best quality
1pc x OBDII 16PIN Cable
1pc x 38PIN Cable
1pc x 14PIN Cable
1pc x 4PIN Cable
1pc x Lan Cable
1pc x Dell D630 laptop (second hand )and latest software