X431 ProS Mini is a new diagnostic tool release by Launch tech. It composed of an X-431 PROS mini pad computer, a protection sleeve, a DBScar diagnostic connector and many OBD1 to OBD2 connector. It communicate with your car by DBSCAR connect with bluetooth, it read car DTC and do diagnose function by the X431 ProS mini Pad computer, it achieves X431 series full car model and full system diagnose function,
X431 ProS Mini can replace X431 Diagun III or X431 IV.Meanwhile, taking advantage of mobile internet, it integrates more application and service, such as creating maintenance data base and case library, providing instant maintenance information, establishing public and private maintenance social circle etc.
As a result, it builds a broad vehicle diagnostic community, which helps you to share vehicle maintenance knowledge online, exchange vehicle maintenance experience online and provide vehicle maintenance related service support online. This will be another revolution raised by Launch in the vehicle diagnosis industry.
What's the Advantage of X431 Pros Mini:
1. Convenient Wireless Connectivity: The LAUNCH X431 PROS Mini utilizes Bluetooth and Wifi to allow you to connect this bi-directional diagnostic scanner with your car within a certain distance. This will really help you to save time and make your job easier.
2. New UI Interface: Equipped with a 6.9 inch tablet computer, and based on the Android OS, the LAUNCH X431 PROS Mini diagnostic scanner give you a new UI interface. Full color HD display with touchscreen menus for accessing all the X431 testing components.
3. Wide Car Model Coverage: supports all ECUs of 12V EFI car models, covering more than 150 car series and ten thousands of car models such as Maserati, Ferrari, Rolls-Royce, Bentley, Benz, BMW, Audi. The LAUNCH X431 PROS Mini kit includes 14 connectors for OBDII and other types of diagnostic standards for the EU and Asian car manufacturers.
4. Accurate Diagnosis: Launch's over 20-year car diagnosis technology and experience help develop original factory devices for most domestic brand car factories, enabling X-431 PROS MINI functions (such as DTCs, data streams, actuation test) to reach the level of original factories.
5. Many Special Functions: X-431 PROS MINI supports programmable installation module matching, coding, and common special functions for most car models. The special functions include service lamp one-click zeroing, throttle matching, steering angle resetting, brake pad resetting, tire pressure resetting, ABS bleeding, battery matching, tooth learning, injector coding, and DPF regeneration.
6. Data Stream and Waveform Recording and Playback: Data stream and waveform recording and playback can analyze the faults that only reoccur during driving and can quickly rectify car faults.
7. Remote Diagnosis: Realize remote diagnosis between maintenance enterprises, and between maintenance enterprise and customers.
 Language:
English, French, Spanish, German, Russian, Japanese, Portuguese, Korean, Italian, Polish, Dutch, Hungarian, Finnish, Simplified, Czech, Turkish, Greek, Arabic, Danish Persian, Romanian, Serbian, Swedish, Chinese Traditional,
Launch Mini Pro supports all electronic control systems on 12V EFI models, incl. more than 150 European, American and Asian models like Maserati, Ferrari, Rolls Royce, Bentley, Mercedes-Benz, BMW, Audi.Diagnose the electronic control system of prevailing vehicle models covering Asian, European, American and Chinese. It achieves full car model and full system vehicle trouble diagnosis
The software list as following: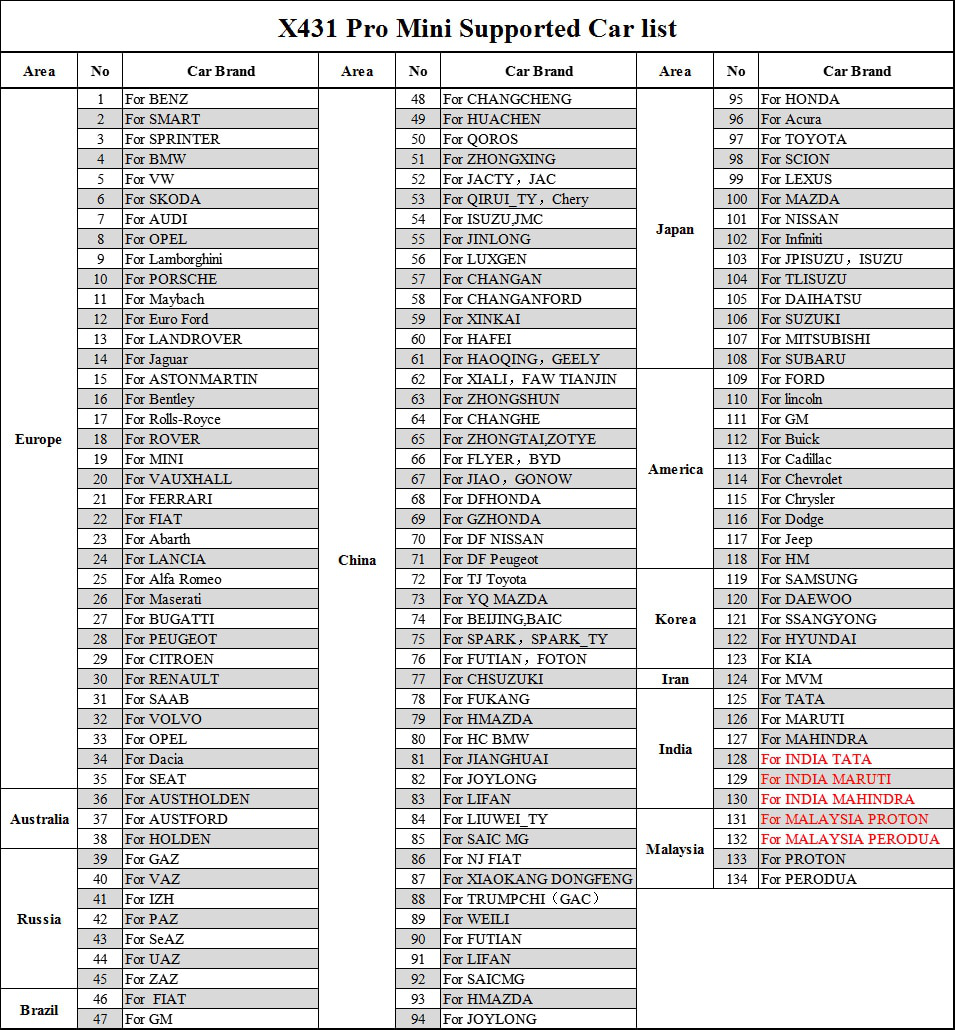 see more infromation click https://www.cnautotool.com/category-35-b0-Launch+X431.html