Porsche PIWIS III 39.9 "License Expired, Update VCI" Error Solution
ERROR:
VXDIAG Porsche Piwis III PT3G v39.900 software displayed error "License Expired, please Update VCI"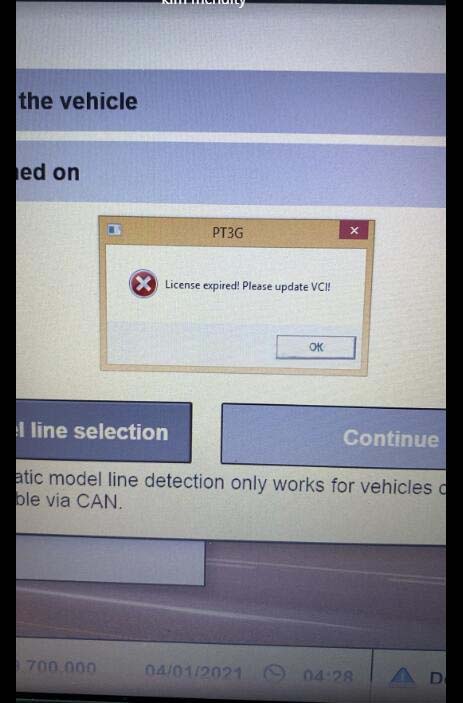 CnAutotool.com solution:
Enable network connection.
Run VX Manager, update both VCI firmware and DoIP firmware.
Feedback:
Performing the task now.
That worked great.
The Porsche PIWIS 3 (PST3) is the newest Diagnostic Tool in the market.
1.Piwis 3 With V39.900 and V38.300 Piwis III Software for Porsch Cars diagnostic & Programming.
2.Piwis 3 with developer mode software cover all piwis 2 functions.
3.With New DoIP Ethernet diagnostic technology,Supports Porsche Models after 1996.
The Porsche PIWIS 3 (PST3) Tester III Diagnostic Tool :
1. Exclusive support for P0rsche third generation diagnostic PIWIS 3
2. New DoIP Ethernet diagnostic technology
3. Luxury car diagnosis, ultra low threshold
4. Support Porsche Models after 1996.
Update method : Send SSD back or buy a new SSD
PIWIS III with Piwis 3 Software Details:
1.Piwis tester 3 With Two Version System Software
(1) V39.900(with Engineering software support online programming)
(2) V38.200(with Engineering software support offline programming)
2.Update: Send Laptop with SSD back to upgrade, 1 year for free, after one year, 100usd/time
3.Support Multi-Languages: German, English, US English, French, Italian, Spanish, Japanese, Chinese, Russia, Portuguese, Nederlands
4.Vehicles Coverage: Support all Porsch till Nowaday