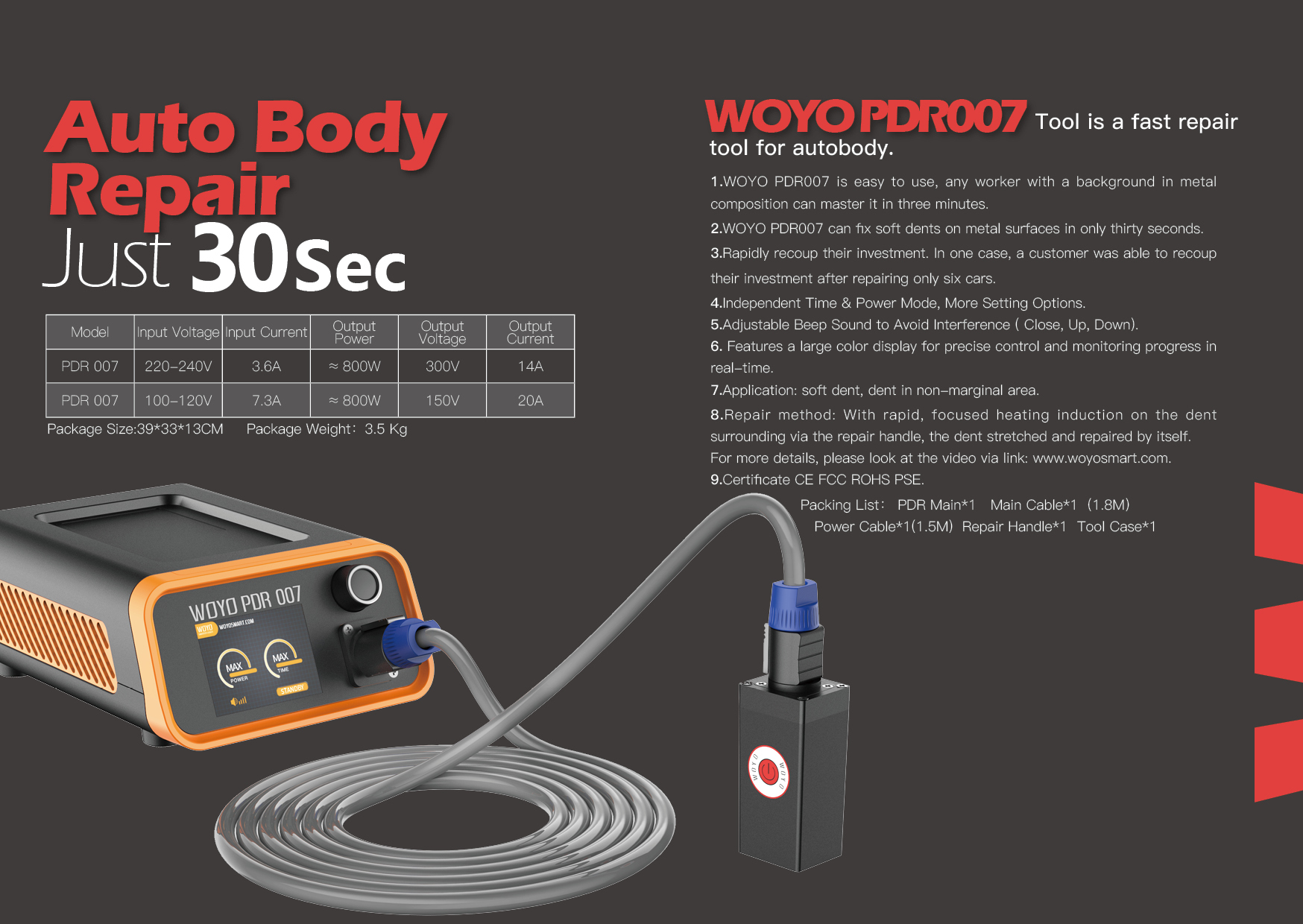 Product Description
WOYO PDR007 Paintless Dent Repair For Steel (Just for 30 Seconds)
The WOYO PDR007 is a mobile, handheld magnetic induction unit designed for paintless dent removal from panels using rapid, focused heating induction.
Unit can also be used to shrink stretched metal.
Fast to repair and easy to use are the biggest advantages of it.
The unit has several settings that can be adjusted depending on its application.
Note: 1. This product is suitable for people who are skilled in using auto repair tools.(Such as PDR rods,Dent Pulling Bridge and so on .) 2. PDR007 is only suitable for auto body made of Iron .
auto repair tools,auto tools,auto tools repair,body repair
Upgrade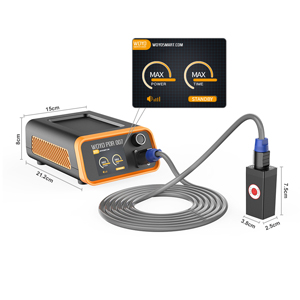 Self-check System
    Power and time can be adjusted separately
    The TFT screen
    Smaller size and lightweight
    Comes with plastic case
WOYO PDR007 Tool is a fast repair tool for autobody.body repair tool,bodywork repair,car body dent,Car Body Repair
1.WOYO PDR007 is easy to use, any worker with a background in metal composition can master it in three minutes.
2.WOYO PDR007 can fix soft dents on metal surfaces in only thirty seconds.
3.Rapidly recoup their investment. In one case, a customer was able to recoup their investment after repairing only six cars.
4.Independent Time & Power Mode, More Setting Options.
5.Adjustable Beep Sound to Avoid Interference ( Close, Up, Down).
6. Features a large color display for precise control and monitoring progress in real-time.
7.Application: soft dent, dent in non-marginal area.
8.Certificate CE FCC ROHS PSE.
Car Paintless Dent Repair Tool for removing Iron auto body dents Remover tool PDR dent repair tool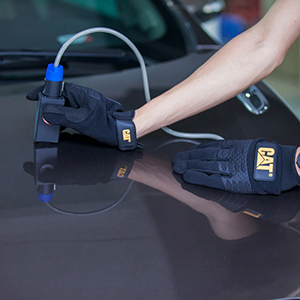 The dent is more closer to the central part of every suitable position marked in the picture, the easer is will be repaired
Suitable range of use:
1.This device is designed specifically to be used with dents on flexible steel car bodies.
2.Dents like the kind caused by impact from hailstones, which leave smooth, rounded dents, can be removed. (More active materials may call for different devices, like pull hooks or suction cups. Consult with training personnel for specifics)
Unsuitable range of use:
1.Sharp dents
2.Body areas that have been damaged and reconstructed
3.Crumpled/creased areas or dents along creased metal
4.Aluminum bodies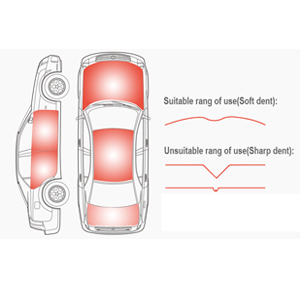 car body repair tool, car bodywork debossing,car breakdown
Car Dent Repair Tool
Power control mode: Repair light color dent suggested.
The power can be preset from 20% to 100%.
Using the power control mode, the working time can be adjusted by ON/OFF on the repair handle.
Specifications:
Input Voltage:100-120V , Output Power:800W
Output Voltage:150V , Output Current:20A
Accessory List:
1 * PDR Main , 1 * Main Cable (3M) , 1 * Power Cable (1.5M)
1 * Repair Handle , 1 * Instruction Manual , 1 * Plastic Tool Case