Caterpillar Electronic Technician (Cat ET Software) is diagnostic software used by Caterpillar dealers.  It's required to communicate, diagnose and service electronically controlled Caterpillar engines and machines. When connected to an ECM, a technician has the ability to diagnose existing and potential problems, configure the product, and obtain data for analysis.  If you're working on Caterpillar engines, this is diagnostic software you are going to be using.  Caterpillar Electronic Technician has all of the tools and capabilities you'll need to diagnose and repair your CAT engines.
CAT ET Software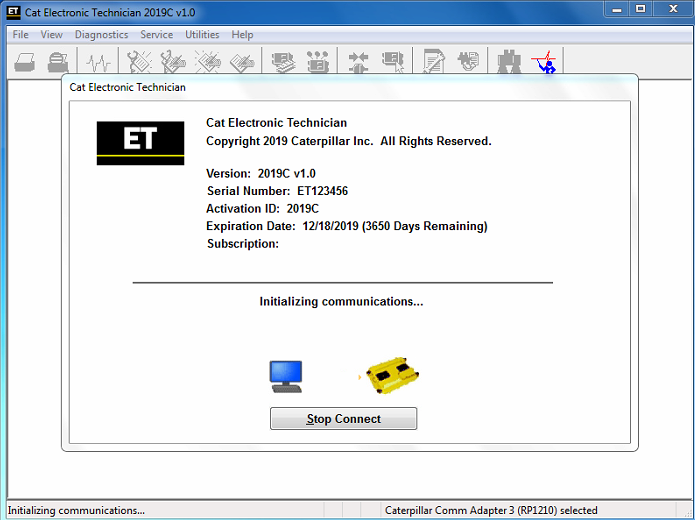 Caterpillar ET 2019C (replaces CAT ET 2018b, 2019A,2019B) Electronic Technician Diagnostic Software :
Brand: Caterpillar
Region: WorldWide
Support Multi-language :English, Chinese, Danish, French, German, Italian, Japanese, Portuguese, Russian, Spanish
Publication date: 10.2019 year
Support All cars of CAT
CAT ET Features:
Displays parameter status
Displays active diagnostics
Clear and view logged diagnostics
Performs diagnostic tests
Print reports and diagnostic results
Perform calibrations
Displays current totals information, i.e. fuel consumption, operating hours, etc.
Integration to help files
Creates engine warranty reports
Cat ET can also be used to perform the following functions:
Diagnostic Tests
Sensor Calibrations
Flash Programming (dealer only)
Trim Files (dealer only)
Parameter Programming (as allowed by Cat)
Copy Configuration Function for ECM Replacement
Change ECM Configurations (dealer only)
Data Logging
Graphs (real time)
Snapshot Recorder
Print Reports
Recommended Computer Specs:
PC containing a 2.0 GHz dual-core processor
3GB RAM
3GB of available hard disk drive
DVD-ROM drive
15.4 inch XGA Screen (1280×1024 compatible)
Microsoft Windows™ 7 Professional, Windows 8 Professional and Windows 10. Note: Windows 8 RT and the Windows Phone are not supported due to the ARM processors.  The Microsoft Surface Pro is supported.
RS232 port with 16550AF UART or compatible (for use with Comm Adapter II)
USB 1.1, 2.0 or 3.0 port (for use with Comm Adapter 3)
Ethernet RJ45 connector
Built in mouse, pointing device, or touch screen
For security purposes, Microsoft Browsers version 11 or newer or Microsoft Edge is recommended. Note: The most recent version of Microsoft browsers may not be validated to work with the service tool.
Wi-Fi (for the Wireless Comm Adapter 3)
Note:
ECM reprogramming (ie. HP changes, ECM flash, etc.), EGR & certain particulate filter code clearing can only be performed by a Caterpillar dealer.