Lonsdor K518ISE key programmer is made by Lonsdor company which made Chinese version K518, CI600 Plus (SKP1000) and CI300. K518ISE has some surprises and new vehicle coverage, including a few volvos, cars Toyota/Lexus smart key all key lost via OBD2 Auto Scanner Tools, newer Renault, Maserati, Ferrari and many other makes.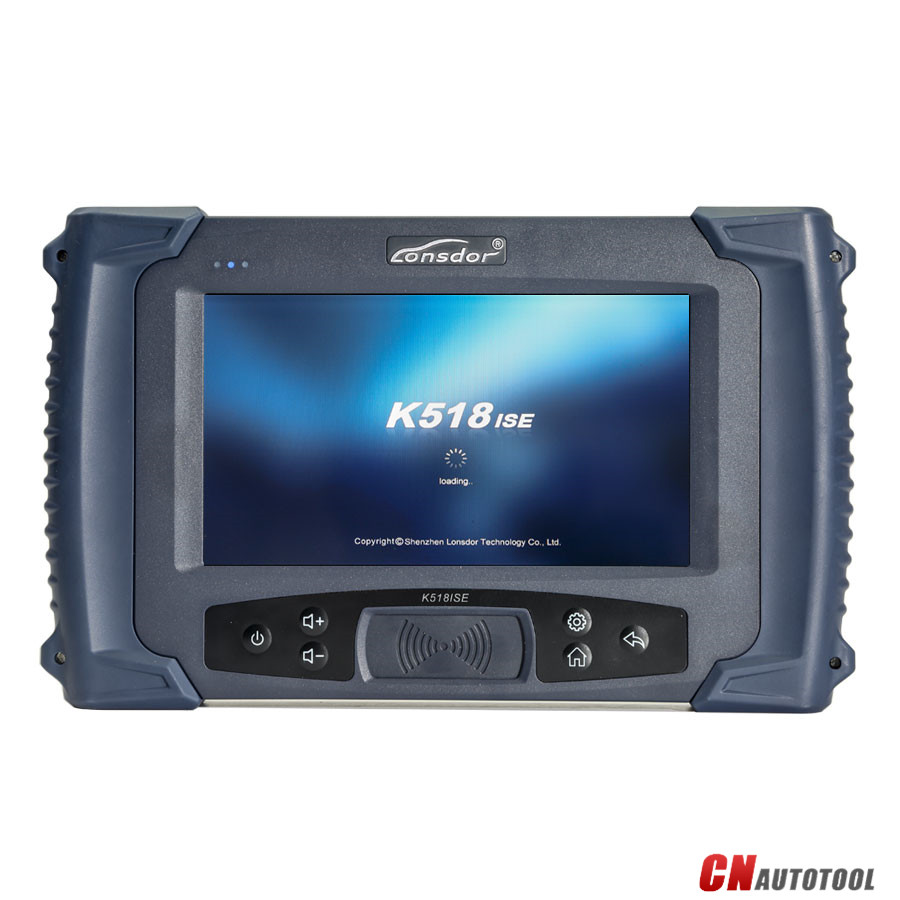 Main Function of Lonsdor K518ISE:
Immobilization Key Programming
Odometer adjustment/mileage correction
Built-in-in Volkswagen 4th & 5th adapter
Free BMW FEM key programming
Built-in Chip & remote detection module.
Lonsdor K518 Main Features:
The best car diagnostic tool based on Android
1. WIFI networking ensures software upgrading more convenient.
2.No need to plug memory card, or connect the computer with data cable, more flexible in online upgrading, updating and activating.
3. With USB-B2.0 standard connector, Automotive Diagnostic Tools test cable integrated with the diagnostic connector function of the adapter.
4. 7 inches high brightness, high definition color IPS capacitive screen
5. 3800mAh polymer battery
6. Support external memory expansion, better within 32G
Lonsdor K518ISE Key programmer Special Features:
Volvo (S40, S60, S80, XC60, XC90, C30, C70, V40, V60, V70) key programming.
Toyota/Lexus: smart key all key lost – via OBD ( without dismantle)
BMW CAS3/CAS3+/CAS3++: direct OBD programming
BMW CAS4/CAS4+: dismantle & read data programming
2016 -New Maserati: smart key programming
2016 -New Ford: smart key programming
Hyundai / Kia 46/47/8A smart key: PIN code reading via OBD, all key lost included.
Renault ( Megane, Koleos, Scenic) without PIN code key programming
VAG group 4th & 5th immobilizer system
Ferrari (458, F12, F149): direct OBD programming
Peugeot /Citroen: two ways to read PIN code & programming, all keys lost included.
Lonsdor K518ISE Key Programmer User Manual
Lonsdor K518ISE Basic Information
Lonsdor K518 ISE  Immobilizer Car List:
Europe:
Audi, BMW, Benz, VW, Volvo, Citroen, Ferrari, Maserati, Fiat, Lamborghini, Jaguar, MG,
Land Rover, Bentley, Lancia, Opel, Peugeot, Porsche, DS, Renault, Alfa Romeo, Smart,
Borgward
America:
Cadillac, Chevrolet, Dodge, GMC, Buick, Hummer, Ford, JEEP, Lincoln, Mercury
Asia:
Honda, Hyundai, Isuzu, KIA, Lexus, Mazda, Mitsubishi, Nissan, Ssangyong, Subaru, Suzuki,
Toyota, Shigaoka Queen
China:
Iveco, Trumpchi, BYD, Geely, Chery, Great Wall, Young Lotus (Basically all Chinese car
models are included)
Odometer Correction Car List:
VW, Porsche, Ford, Jaguar, Land Rover, Mazda, Audi, Renault, Hummer, Hyundai, Kia…
Note: more high-end cars will be updated very soon.
Lonsdor K518 ISE key programmer work with the smart key emulator as below, need purchase alone:
SKE-LT: Smart Key emulator – Toyota/Lexus smart key for all key lost via OBD
Black:  SKE-LT-DST40(94/D4) -Supports 94/D4 smart key.
Red: SKE-LT-8A(88/A8)-Support 88/A8 smart key.
Green: SKE-LT-DST80(98)-Supports 98 smart key.
Blue: SKE-LT-8A(A9)-Supports A9 smart key.
Lonsdor K518ISE Technical Parameter:

Lonsdor K518 ISE Registration & activation
After system updating, you need go to registration&activation.
For new user, click Registration, input user name(email), name(min 2 char), password(min 6 char), email verification code and click YES to complete registration(if interrupted after registration is done, you will go to the System update–Registered user to proceed). Then go to Activation confirmation to continue.
After confirming activation, it will enter into Setup password interface, please set 6-digit numbers as your startup password. Then after information verification by Lonsdor (5-30 minutes, you can check the progress by clicking "Refresh" ), you will required to re-enter the password to verify, when you get the notification that verification successful, the whole process before using the device is complete.