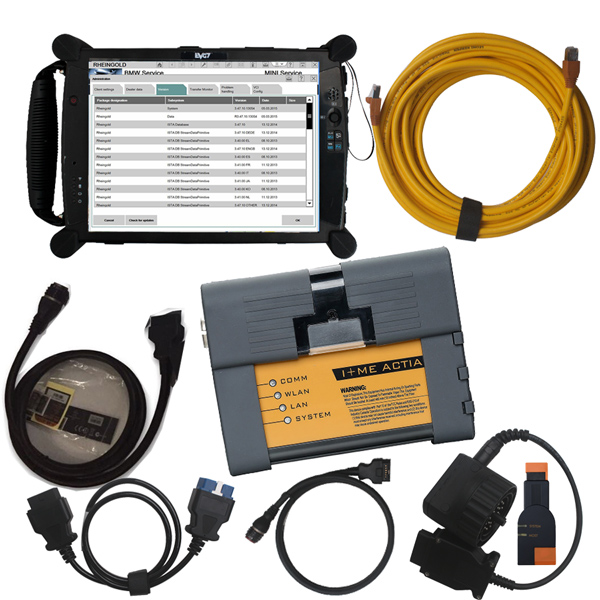 BMW Icom a2 bc software version has updated recently. It's with the latest version 2016.07.
ISTA-D 3.55.31
ISTA-P 3.59.0.600
VIN: 2016.06
This latest software is installed in a brand new EVG7 tablet. You can get it work directly after you receive it. The price is much better to purchase this bmw icom a2 plus the tablet. FOB price is only 948USD. It can run faster and more stable than the other laptop.
BMW ICOM A2+B+C Function:
* Interface A2 – OBD diagnostic supporting MOST, D-CAN and K-CAN protocols.
* Interface B – diagnostic via MOST bus, and have connection to A-interface via USB connection.
* Interface C – 20-pin cable for old models.
BMW ICOM A2+B+C Special Features Compared with ICOM :
* The modified ICOM A2 for vehicles with OBD access receives a significantly more powerful processor and more storage capacity.Robust aluminium case will help to avoid damage when using in harsh environments.
* To protect the MOST connector, the ICOM B for vehicles with optical MOST access will be equipped with a soft cover made of rubber instead of the former plastic cap.
* The ICOM C for old series with a diagnostics socket will be additionally equipped with an approx. 20 cm long cable, which facilitates the connection of the ICOM A2 and makes storage in the engine compartment easier.
For this bmw icom a2 plus evg7 tablet, you'd better use this tablet only for bmw icom but don't install any other softwares in it. Otherwise the software will be easily damaged. You can get technique support for lift time from cnautotoo